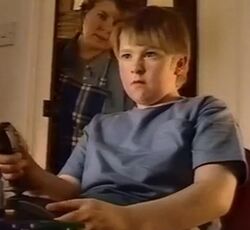 Chris Tucker is a young boy who is a character in CBBC's Belfry Witches. He is a very naughty ten-year-old boy who likes to get up to no end of mischief. He loves to play pranks on people and scare them until they scream with fright.
He has been sad ever since his dad left and he is a loner at school. When he meets the Belfry Witches, Skirty Marm and Old Noshie, a whole new world of mischief opens up before him! Chris's favourite adult is Mr Babbercorn - who is the only person who doesn't seem to dislike him. He can play prank after prank on Cuthbert who will still treat him with kindness - so much so that Chris isn't sure if he is getting any pleasure from tormenting him!
Ad blocker interference detected!
Wikia is a free-to-use site that makes money from advertising. We have a modified experience for viewers using ad blockers

Wikia is not accessible if you've made further modifications. Remove the custom ad blocker rule(s) and the page will load as expected.