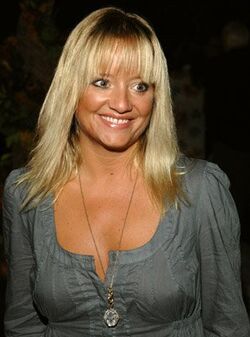 ""I love my character she's very mischievous and gets her spells wrong continually - she's not very good - but she's got a good heart!"
―Lucy Davis on Old Noshie
"There are definite pro's to being a witch: being able to turn your enemies into frogs would be one of them"
―and on being a witch
Lucy Clare Davis (born 2 January 1973) is an English actress. She is best known for playing the character Dawn Tinsley in the BBC comedy The Office, as Dianne in the horror-comedy movie Shaun of the Dead and as Hayley in The Archers. She is best known best to this wiki for playing Old Noshie in The Belfry Witches.
External Links
Edit
Ad blocker interference detected!
Wikia is a free-to-use site that makes money from advertising. We have a modified experience for viewers using ad blockers

Wikia is not accessible if you've made further modifications. Remove the custom ad blocker rule(s) and the page will load as expected.